EXPLORING ART, SELF-EXPRESSION AND EXCLUSIVITY IN CUSTOMISED SNEAKERS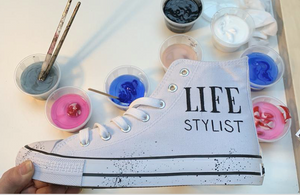 Sneaker enthusiasts, or "Sneakerheads", are individuals who are involved in the acquisition and trading of the shoes. They are curators of sneakers. To them, the shoes are works of art and an outward expression of their personality and personal tastes.
The Sneakerhead Subculture
The sneakerhead subculture was something that first emerged in the 1980s in the United States, with the launch of Nike Air Jordans. These were launched in collaboration with Michael Jordan, who is widely considered as one the greatest basketball players of all time. In the present day, the sneakerhead community has permeated into Britain, Europe and many Asian countries like India, the Philippines and China.
Sneakerheads are not just involved in the collection of shoes but also possess deep knowledge about the history and evolution of sneakers. They also host sneaker events, parties, swap meets and gatherings in search of limited edition, rare and vintage sneakers.
Sneakers as Mediums of self-Expression and Art
For most people, sneakers are just shoes, which serve the practical benefit of comfort. But for some, sneakers are an artistic form of self-expression. The culture surrounding sneaker collection has influenced and been influenced by the world of art. Shoes that incorporate artworks on their uppers enjoy great popularity among the collectors.
Hand painted sneakers, which serve as a creative outlet for shoe artists, are one of a kind collectables. What makes them truly unique is that they merge the creativity of the artists with people's personal taste. Hand-painted sneakers are not just a fashion statement but a form of artistic self-expression. For this reason, they are a rare collectable and even more valuable than the limited edition sneakers, which might be launched by brands in collaboration with celebrities. Besides the element of exclusivity, which comes with a custom-painted sneaker, the collection of these customieed shoes is an excellent way to support the artists. In a way, the people who possess these custom-painted trainers are art collectors, as these shoes exist as a body of art, which have a visual language across them all.
Koko Art provides custom hand-painted sneakers, which can serve as an extension of your personality, passions and taste. You can explore your artistic expression through high tops, low tops, plimsolls or slip-ons. Each piece is a unique collectable, hand-painted by our artists using high-quality textile colours. The sneakers are made to last, as they are water-resistant and washable. You can choose to buy your hand-painted sneakers from the wide collection available on Koko Art, or choose to design your own, personalized to your taste.
---
Also in News
The History Of The Nike Air Force Shoes