The History Of The Nike Air Force Shoes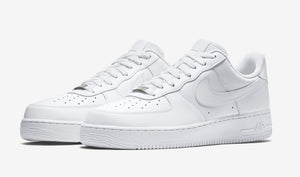 Nike Air Force shoes are a range of athletic footwear made by Nike to meet the functional and fashion needs of today's consumers. These shoes have been worn by popular celebrities including Justin Timberlake, Kendell Jenner, Jennifer Lopez, and Justin Bieber. Originally named Air Force One, the first pair of Nike Air Force shoes referred to the well-known airplane of the President of the United States.
With that in mind, let's take a look at the history of one of Nike's most popular shoes:
Nike Air Force 1 (1982)- Also called AF-1, it was designed by ergonomic engineers and podiatrists to ensure comfort, safety, and functionality. In the sports sneaker culture, the AF-1 was an unprecedented turning point with its well-engineered design. It can withstand intense sports activities while maintaining durability, elasticity, and flexibility.
Air Force One Low (1983)- AF-1 high top was made popular by six popular NBA players in 1983 and the AF-1 low is an alternative. It was the start of various collaborative and limited editions.
Re-Introduced AF-1 (1985)- the production of AF-1 ceased in 1984, but the demand was still high. This compelled Nike to produce the AF-1 again in 1985. This time, AF-1 arrived with additional colour options, including chocolate brown and royal blue. Both were very popular, not only as sports sneakers, but also as fashion items. Throughout the rest of 1980's, Nike releases various limited editions and they were huge successes.
Sneaker Gold (Mid 1990's)- Nike released the AF-1 Sneaker Gold for special occasions and events. It was a popular limited premium edition.
Hip Hop's AF-1 (2000)- white-on-white AF1 sneakers with Roc-a-Fella logo were popular among hip hop artists, rappers, and fans across the globe.
AF-1 For Women (2001)- Nike finally introduced AF-1 designed for women's feet in 2001. Previously, women could only wear men's AF-1's in smaller sizes.
AF-1 Low Linens (2001)- it's a low AF-1 with pink Nike's swoosh and brown linen outsole. It was released only in Japan to introduce the legendary AF-1 shoes in foreign markets. Nike re-released AF-1 Low Linen in the US in 2016.
Foamposite AF-1 (2010)- it's an AF-1 variant made of Nike's proprietary material, called Foamposite. It offers extra comfort with the foamy bouncy sole.
Lunar Landing AF-1 (2012)- it's another major milestone in AF-1 series with Lunarlon cushioning to give a light bouncy feeling, just like when astronauts walked on the moon.
Valentine's Day AF-1 (2021)- the latest iteration of AF-1 is a romantic model with red heart on its heel. The label says, "True Love since 1982". Launched in 2021, it quickly became popular among couples who want to look stylish and show their affection for each other and, of course, the Nike brand.
Contact Koko Art To learn more about this exciting trend, contact Koko Art today and shop a wide selection of custom painted and bespoke clothing and accessories.
If you enjoyed this article, please feel free to share it on your favourite social media sites.